Who is this article for?

All Ideagen customers requiring software support.

An active support contract is needed.
Ideagen Support is here to help you with Coruson.
Support covers the use and implementation of the Coruson system as well as resolution of any issues that you experience. Support can be accessed through Ideagen Help by raising a ticket, or via telephone or e-mail.
Coruson support is available 24-hours a day, 7 days a week.
This article outlines the priorities and exceptions of Coruson support.
---
Support Priority Levels
The Ideagen Support Team operates a risk-based triage process to prioritise all support requests. This is based on the impact to end users and the severity of the issue as defined by the customer reporting the issue. This risk assessment will produce a priority level.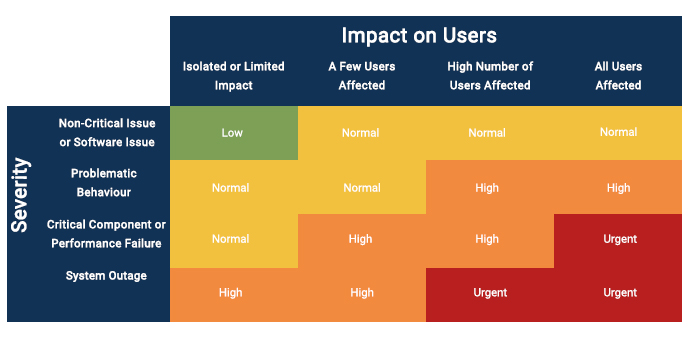 The support request is then handled in accordance with the service levels as outlined below.

Note: All hours above are business hours. Where a permanent fix is not possible, we aim to provide a workaround or a plan of resolution within the timelines stated above.
Exceptions
If a fix cannot be provided within the target time an estimate will be provided.

Exceptions to the fix time may include:
Software Issues (e.g. bugs/defects, design issues):The turnaround time and delivery method of software fixes or changes is based on the severity of the issue. Should your issue be confirmed as requiring development input then the Support Team will provide an estimate as to when the issue will be resolved by way of software update or workaround. Your support case will remain open until the issue is resolved.
Useability and General Queries: Where there is no set problem to be fixed (e.g. general software queries, useability questions, etc) the support request will be treated as a P4.
Enhancement/Wish List Requests: Enhancements or requests to change the product will be reviewed on a case by case basis.