The Home Page is your starting point after login in to Coruson, which will display a variety of information to help you use Coruson to effectively manage your workload.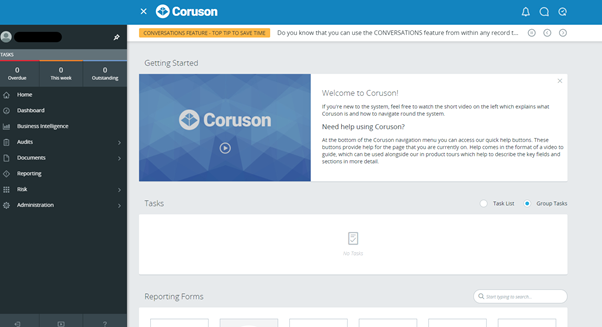 This home page allows you to manage your workload by displaying the following information: -
Required and Assigned Tasks.
Access to Forms made available to you.
Side menu to access Coruson Modules.
View your notifications, conversations and recently viewed records.
The homepage is separated into six different areas: - Announcements, Tasks, Side Menu, Reporting Forms, Resources and Monitor sections.
Announcements
This section appears at the top of the screen. These will be specific to your organisation and may include tips, news or warnings.

You can pause on a specific announcement or scroll through them. They will also change automatically while you're on the home page.
Tasks
The Task section displays all the work we are required to do against records in Coruson. By default, ALL our tasks are shown in the list. Tasks in blue are due, whereas tasks in red are past their target date. We can view tasks by group or in a list.
Group Task View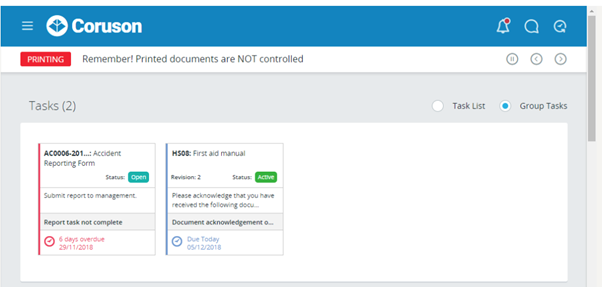 Task List view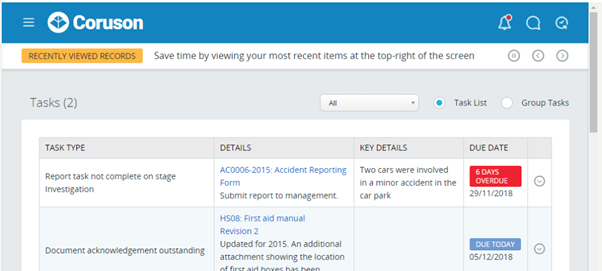 We can filter the list to show specific task types, such as Document Acknowledgement or Report Task not complete, by opening the drop-down list at the top of the task section.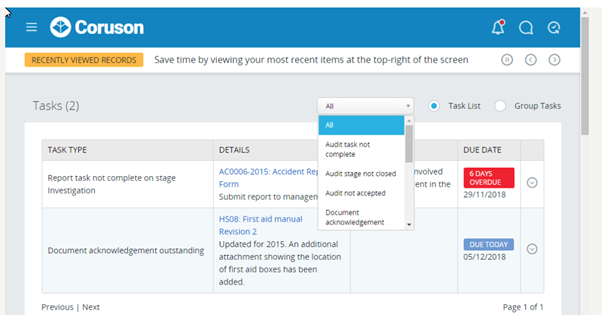 You can access any record by clicking the link in the Details column or performing additional action by using the menu buttons

in the far-right column. This will give you a list of options such as complete, view or comment on tasks: -

Coruson Side Menu
To access Coruson modules and other features, you must open the side menu. To do this click the menu button at the top left of the screen
.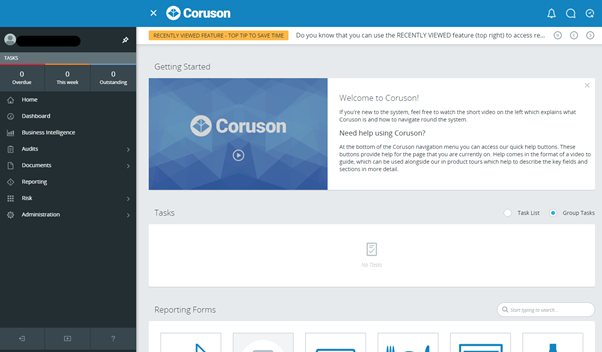 If you have a large monitor, you can show this side menu permanently, to do this click the pin button

Pressing again will unpin the menu and pressing the cross

here will remove the menu from the screen.
In the side menu you can see a list of the Coruson modules you have access to (e.g. Dashboard, Audits, Documents, Reporting and Risk) as well as an overview of your required tasks, such as Overdue actions , recently viewed records (this week) and those Outstanding Tasks.

The icons below let us log out of Coruson and view the tutorial video and help text.

Reporting Forms
This section shows all the forms that the User has access to, you can click on any form to raise a Report from it.

Resources
This section will usually contain links to websites that you may find useful.

Monitor
Coruson lets you store and manage a huge amount of data relating to your organisation – which can be confusing if you need to quickly access specific information,
The Monitor section of your home page contains your default Dashboard, which help you overcome this confusion – by letting you configure widgets that you can use to view and summarise data in a clear interactive graphical interface.

These widgets can be accessed via the Dashboard module in the main menu.

Where they can be constructed, edited formatted to show the information in the way you can easily understand.

Then added to the main Monitor section of the home page.