The data export within Coruon allows you to report your data to external authorities. This guide will show you how to create and configure a new export using an ECCAIRS schema and will contain the following sections:
Where ECCAIRS exports are located
Adding a new export
Configuring a newly created export
Where ECCAIRS exports are located
Data exports from Coruson are an admin-only feature that can be found in Administration > Reporting > Data export > Report Data Export. This will bring you to the screen below: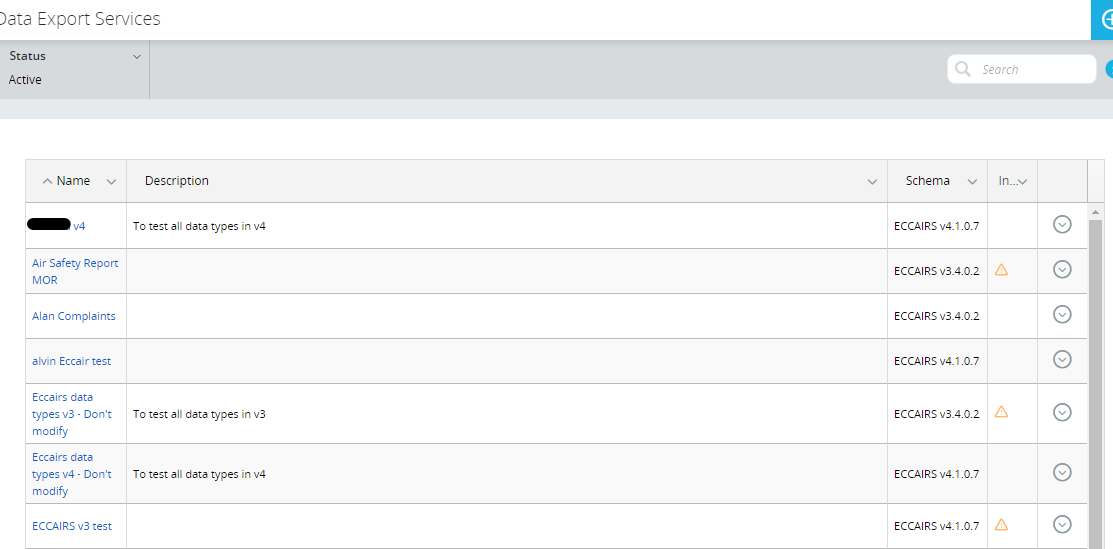 If you are looking for an existing export, you can filter by Active, draft or archived exports in the top left. If you are looking to add a new export to your tenant, this can be done using the

button.
Adding a new export
After clicking on the

button to add a new export, you will be given these options: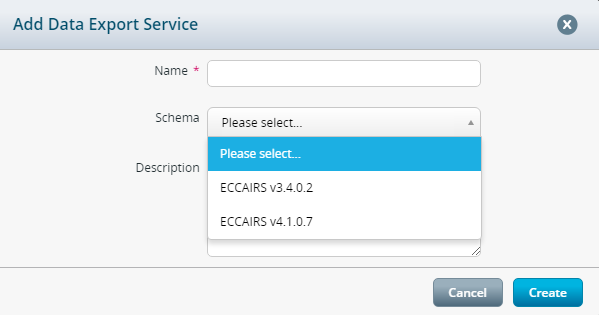 Once you have chosen your schema version, you will then have the option to chose the format on how ECCAIRS reports are sent out (as below) and all of these options can be changed once the export is created while it is in "draft" form.

Single Report E5X. This will export out a single report export to your authority
Multiple Reports per E5X. This will bundle all reports that are marked for export into one export sent your authority.
Once you have made you choices and click the "Create" button your new export will be created in draft form automatically.
Configuring a new Export
The structure of an export is broken down into 3 tabs, "Exporting", "Mapping" and "History log".
Exporting
The exporting tab mostly covers what reports are sent, when they are sent and who they are sent to.
Automated Data Export
"export to". This is a mandatory field that requires a valid email address for the export to be sent to. This can be either the authority you report to or someone else how can then forward it depending on how you wish to configure

Configuration. This is where you can determine when you export is run. You can configure if it runs daily, weekly etc as well as on what day of the Month, week or an internal of x days.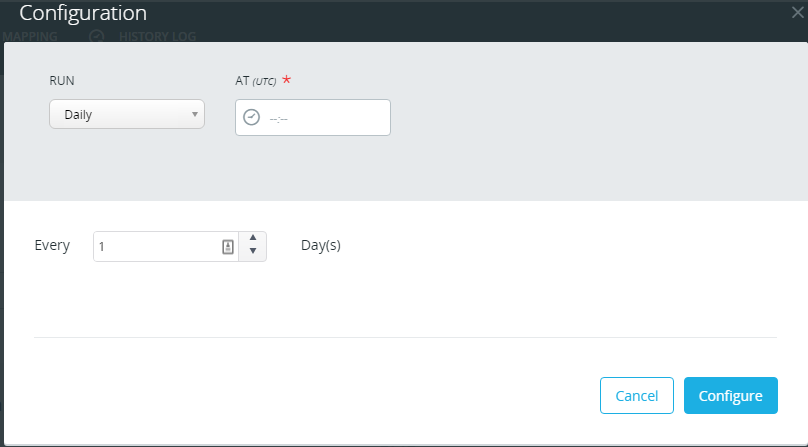 Export rule
This is where you create a rule that will allow repots to be marked for export via a field being used in the report. For example, the below rule will export reports that have Glasgow chosen for the "Airport" field.

Clicking on the "add button" in the top right will allow you to add a new rule: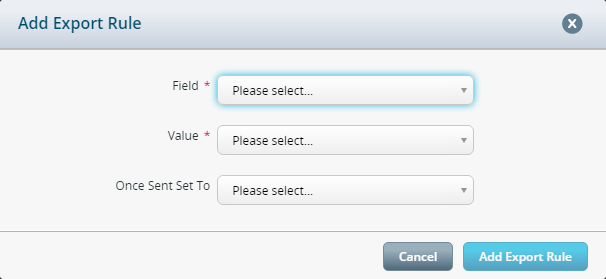 Forms
Here you can choose which report type you wish to be sent to your authority as well as to include attachments
Mapping
Mapping is the second tab to configuring your export and this is where you configure the regulatory fields found within the schema to the fields used in your reports.

To begin mapping, select a regulator field on the left column. Next in the right column, select the source of the report fields (fields from the field bank, risk assessment fields etc) then select the report field you wish to be mapped and finally click the

button to add the rule.
If you add a rule and then realise you need to remove/make a change, you can delete the field by using the drop-down arrow as below:

Once this has all been carried out and you are happy with the export you have created, you will now need to activate it. This can be done via the blue arrow in the top right of the page:
Once this has been done, you export will now send out reporting data to the specified authority.