Setting up the Group Permissions
Navigate to [Administration] > [People and Security] > [Groups]
Open the "Security" tab.
Select "Reporting" from the menu and scroll to "Report Record Access" and press the [+] button.
Keep the permission set to "Read Access" and select the "Form". This will be the type of report you want to give users access to read only.
Add in Confidential Access if required and press "Add Rule".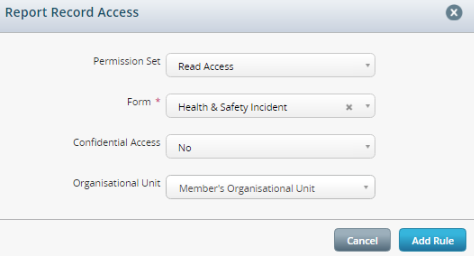 Adding Users
In the Group record, navigate to either "Individual Members" or "Organisational Unit Members".
In Individual Members, you can add single users to the group manually.
In Organisational Unit Members, you can add whole Organistational Units. This can be used for "Tenant Segregation". Details of this can be found in the Tenant Segregation Article.