Classifications are used to apply further information to a report to assist with searching or analysis. Although classification values are only applied to a report once it has been submitted, when you are configuring the form, you should decide which classification values are to be made available.



How to Create Classification Lists
How to Make a Classification Lists Mandatory
How to Add Classifications to a Report


How to Create Classification Lists
Navigate to Administration > Customisation > Custom Lists
Click the button.
Add a Name and an optional Description for the List and click the [Add] button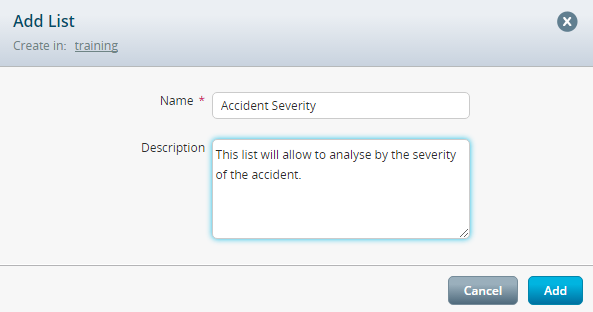 4. Then start adding items to the list by clicking the

next to the name of the list. (You can also specify a code and a description for each item on the list)?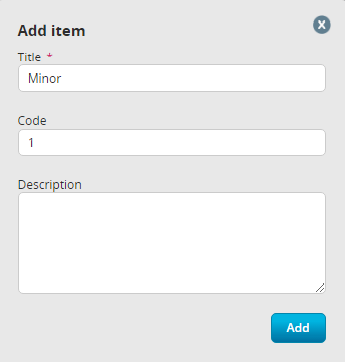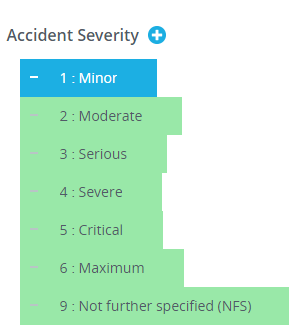 How to Make a Classification Lists Mandatory

When the form which the report is based on was created, the owner can choose which classification lists should be made available to analyse this report, for example "Accident Severity" and "Department".

Navigate to Administration > Reporting > Forms
From here, you can either edit an existing form, or create a new one.
Open the form and navigate to the 'Configuration' tab.
In the Report Classifications section click the button to add the lists.
For each classification list you add, you can toggle "Mandatory" on or off. For each list where this is turned on, the owner of the report will be forced to select at least one value.



How to Add Classifications to a Report

Navigate to Reporting.
Open the report you wish to add a classification(s) to.
Click 'Evaluation' tab
In the 'Classifications' section, click the icon.
Select the classification list (which can include documents and standards) you wish to apply to the form.
You can add multiple classification lists to the form.
From each drop-down list, select the value(s) you wish to assign to the classification. You do not need to select a value from every list if you do not think it is relevant.



Please note that you can also assign risk events as classification values.