Who is this article for?

Administrators building forms.

Report admin permissions are required.
Report forms can include images. These images are added to the image bank and can be used in a number of ways on the form.
For Example: An image can be added as a logo for printed reports or they can be added with annotation features for capturing information.
This article outlines how to add images to the image bank and how to add the images to the form. The article is split into the following sections:
Creating a form from scratch? Visit How to Create a New Reporting Form for details.
---
1. How to Add Images to the Image Back
To add an image to the image bank:
Go to Administration, then Reporting Admin, then finally Forms.
Open the form you need to edit.
Reminder: You can only edit a draft form. If your form is active then you will need to revise it.
Click on Image Bank.
Click Upload a File.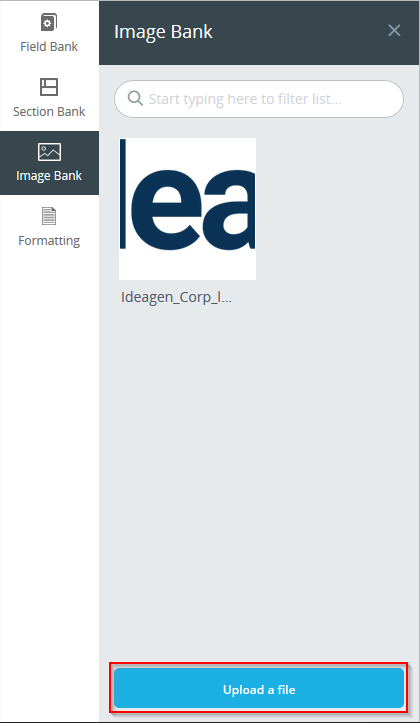 Browse for the file you would like to upload.
Important Note: The name shown in the Image Bank will be the same as the filename.
---
2. How to Add an Image to a Form
To add the image to a form:
Expand the Image Bank.
Drag the image onto a form section.

Notes:

Click preview at the top right-hand corner to view how your image looks.
You can split the row into additional columns to shrink the size of the image.
---
3. How to Configure Image Annotation
Annotation end users to draw directly onto an image within a form. This can be useful as a method of capturing information.
Examples: An image of the human body can be used to identify areas of injury, or a seating chart can be used for the user to identify the location of a specific individual.
To enable annotation:
Add your image to the form.
Click on the actions button and select Edit.

Click on Enable Annotation.

Looking for more details on field settings? Visit How to Configure Field Settings for details.
---
4. Further Reading