This article includes:

Accessing the Document Types section
To access the Document Types section:
Click the menu icon at the top left-hand corner of the screen
Click "Administration"
Click "Documents Admin"
Click "Document Types"

Creating a new Document Type Value

To create a Document Type value:
Highlight the required Document Type value that you would like to create a child value for, within the "Quick Search" pane.
Click on the down-arrow icon to the right of the Document Type value and select "Add Child Item"
Within the "Add Type" section, enter the relevant information for the document type and click [Add] when finished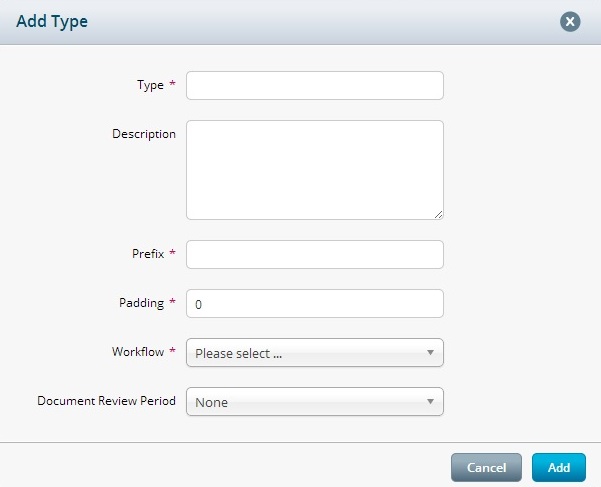 The following information can be entered:
Type: The name of the document type value
Description: A description of the document type value to allow additional information to be entered
Prefix: The prefix of the document type value, this will appear before each unique document number, i.e. "DOC", etc.
Padding: The number of digits you want each document number of this type to use. For example, if you enter the prefix PROC and a padding of 4, the first number in the sequence would be PROC0001
Workflow: A list of people and actions that need to be performed against the document prior to its activation
Document Review Period: The period of time that should elapse before documents of this type are reviewed again
Note: Those fields that include an asterisk (*) are mandatory and must be populated before the document type can be added.


Editing a Document Type Value

To edit a document type:
Click on one of the existing document type values. The "Details" pane will populate to show the information originally entered when the document type value was created.
Within the "Details" pane, hover your cursor over each of the details and select the pencil icon that appears to edit the information.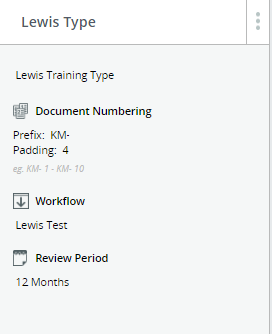 Note: The "Workflow for this Document Type" and the "Document Review Period" details are selected via a drop-down menu instead of manually editing the value.


Archiving and Reinstating a Document Type Value

To remove document type values:
Click on one of the existing document type values.
Click on the arrow and select [Archive] from the drop-down menu
Select [Yes] on the "Are You Sure?" section to archive the managed list value. Please note that any child values associated to that managed list value will also be archived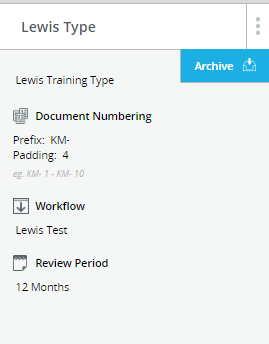 To reinstate archived document type values:
Set the register to "Active and Archived"
Select the archived managed list value (this value will be greyed out)
Click on the arrow and select [Reinstate] from the drop-down menu