Access Risk Administration
To access the Risk Administration:
Logon to Ideagen Coruson
Select [Administration] from the Navigation Panel.
Select [Risk] ,> [Hazard Checklist Templates].
The area shown below will be displayed.



Creating a New Hazard Checklist Template
To create a New Hazard Checklist Template:
Select the [Add] button to create a new template.
Enter the [Title] of the checklist and the [Description] if necessary.
Press [Add] and this will add the newly created template to the table and open the template for editing.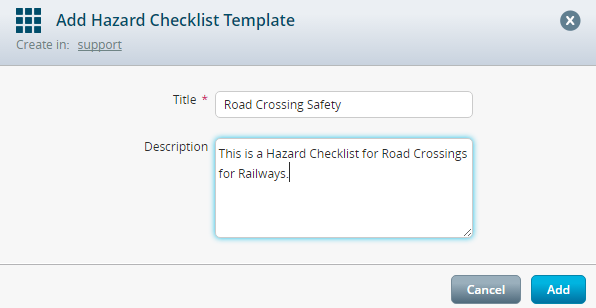 Editing a New Hazard Checklist Template
To edit the newly created Hazard Checklist Template
Select the [+] icon to add a new Master Hazard Type. These are edited in the [Master Hazards] section of the Administration Module. This will add the Master Hazard Type to the Hazard Checklist Template
Select the [Add] option next to the Master Hazard Type.
In the [Add Master Hazard] window, add the relevant hazards by searching the list of Hazards and selecting [+] for each relevant Hazard.