Who is this article for?

Users who are accessing Coruson on a browser.

System Wide Admin or Audit Conformance Report Access.
This article will walk through how to raise a Conformance Report within the Audit module. Audit Conformance Reporting will provide you with a report that customers can use to report their IOSA audit outcomes to their Auditing Organisation.
You are able to associate multiple areas of standard to a single question and link fields on an Audit Findings form to the Conformance Report.
---
Granting a User Permission to Create an Audit Conformance Report
A user, other than the System Wide Admin, can be given permission to access and create Audit Conformance Reports. This is set up in the Permission Sets area of the system:
Administration > People & Security > Permission Sets

When you have set the appropriate permissions, you can give a group of users access to this feature by navigating to: Administration > People & Security > Groups.
Open the Group you wish to grant permission to and navigate to the Security tab. Click the 'Audits' section and then find the sub-section labelled 'Audit Conformance Report Access'. Click the button and choose the Permission Set you would like associated. Add this Rule.
Your users will now have access to Audit Conformance Reports.
---
Setting an Audit to be Reported On
Create a new Audit and make sure that it has an Audit Checklist as part of the Audit Notes tab. Within the question you would like to make conforming upon, find the Area of Standard section. Add the Area of Standard you wish to conform to using the button.

Note: For the Audit Conformance to be reported on, the workflow must have passed the Performed stage on the record.
---
Creating the Audit Conformance Report
Navigate to Audits > Audit Conformance Report and click the button at the top right of the page. You will be presented with the following page: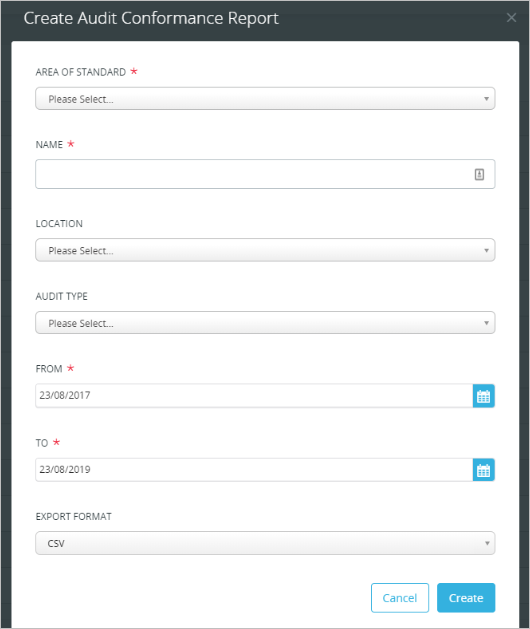 Here you can define which are of the standard you would like the Report to be looking for within your Audits. You can also determine the date parameters.
After clicking the Create button a notification will appear notifying you that the report is being created. When it becomes available, the red dot will appear on the Notifications icon. Opening this menu will allow you to access the newly created report.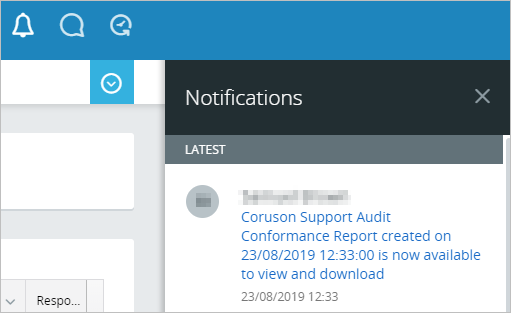 The generated report will show all the standards being reported against regardless of which ones have any Audits linked to them. The report will look something like the following screenshot: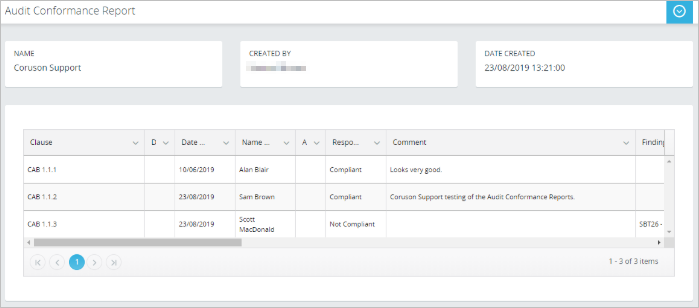 ---
Downloading the Audit Conformance Report
During the set up of the report, you are able to choose the Export Format. You can choose between CSV and XML for this.
Open your generated report and click the icon on the top right of the screen. You will be able to Download the report in your chosen file format.