Who is this article for?

Users who are reviewing/evaluating a report that has been submitted.

Read access to the report evaluation section.
When Coruson users are submitting their reports, it is possible that the same thing will be submitted by different people thereby creating duplicate records. To limit this, Coruson has allows fields to be configured as matching fields. This means that data will be evaluated to find instances of where the same information has been submitted. Records that match the criteria will be flagged to the user performing the report evaluation allowing them to set the reports as duplicate records or linked records.
This article is for users responsible for reviewing or investigating report records. If you are the user filling in the report then you may not have access to this functionality. If you feel that you should have this functionality please contact your Coruson Administrator.
Matching Example: On a health and safety incident form you may choose to make the event date, categories and description fields matching fields. This means that if an incident report is submitted with the same information in these fields then Coruson will suggest these are from the same event. One record can be selected for the investigation and the rest closed as duplicate events.
To make this easier to learn, this article is split into 5 sections so that you can either walk through the steps in sequence or you can jump to the section relevant to what you are doing in Coruson:
---
1. How Matching Works
A reporting form is made up of a number of different fields and some of your fields can be designated as matching fields. This means that the content in the matching fields will be compared against other reports and if a match is found then Coruson will suggest that these reports may be for the same event. The user evaluating the records can then choose the best course of action to manage the identified records.
What's the benefit for matching?
Save time! There is no need to waste time investigating the same incident multiple times and instead you can close a report as a linked report, leaving one report open for investigation.
Capture multiple points of view! Different people from different roles can report the incident from their point of view, allowing your investigation to cover a wider scope.
Perfect for timeline! Multiple reports can all be pulled into a single timeline, allowing you to navigate the incident and risk assess the issue.
---
2. Linking to Suggested Matches
Coruson will automatically suggest reports as possible duplicates or linked events to make the process as easy as possible. Reports can be classed as:
Duplicate Reports: A report that describes the exact same information. It may have been completed in error or submitted by a different person.
Linked Reports: A report that is similar in nature to the one reported. In some cases, this could be another event that was caused by the one you are investigating or it could even be a totally different event that allowed your event to take place.
Timeline Associated Reports: A report that has been linked to this report via a timeline investigation. For more information please review our articles on how to use the timeline to investigate an event.
Tip: Using the risk module allows you to assign preventive and reactive controls against events taking place. If you find common reported events then you should consider linking them together and then performing a timeline investigation.
How to do it:
Go to the Evaluation tab on a report record.
Navigate to the Potential Matches section.
If any records have the same information in their matching fields then they will be selected as potential duplicates.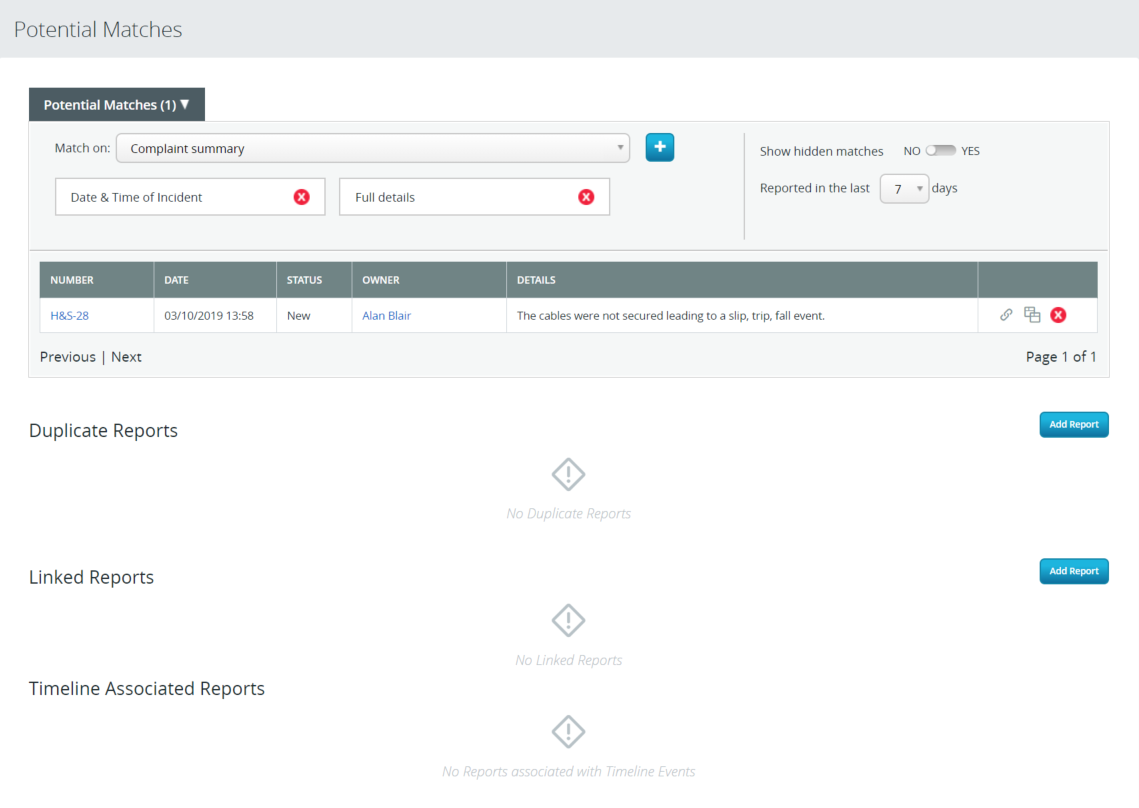 Identify the next course of action:
Is it a duplicate? Click the Mark as Duplicate button. The record will appear under the Duplicate Reports section.
Is it similar to the report but not a duplicate? Click the Link Report button.
Does it have nothing to do with the report at all? Remove the record from match list for this record.
Selected the wrong option? Don't panic! You can use the action button to remove the report from the Linked or Duplicate section. This will automatically return the report to the potential matches section.
---
3. Searching for Matches
Although Coruson suggests records that may match based on your criteria it is possible for you to adjust the criteria if required. This involves adding and removing criteria to match on and adjusting the time period to consider reports as possible matches.
Why would you need to do this?
You may be presented with a large list of matches and so adding additional criteria will reduce the list to a more manageable number.
You may have too many matched fields on your form meaning you don't
How to do it:
Use the Match On field to add any additional fields that should be considered when finding a match.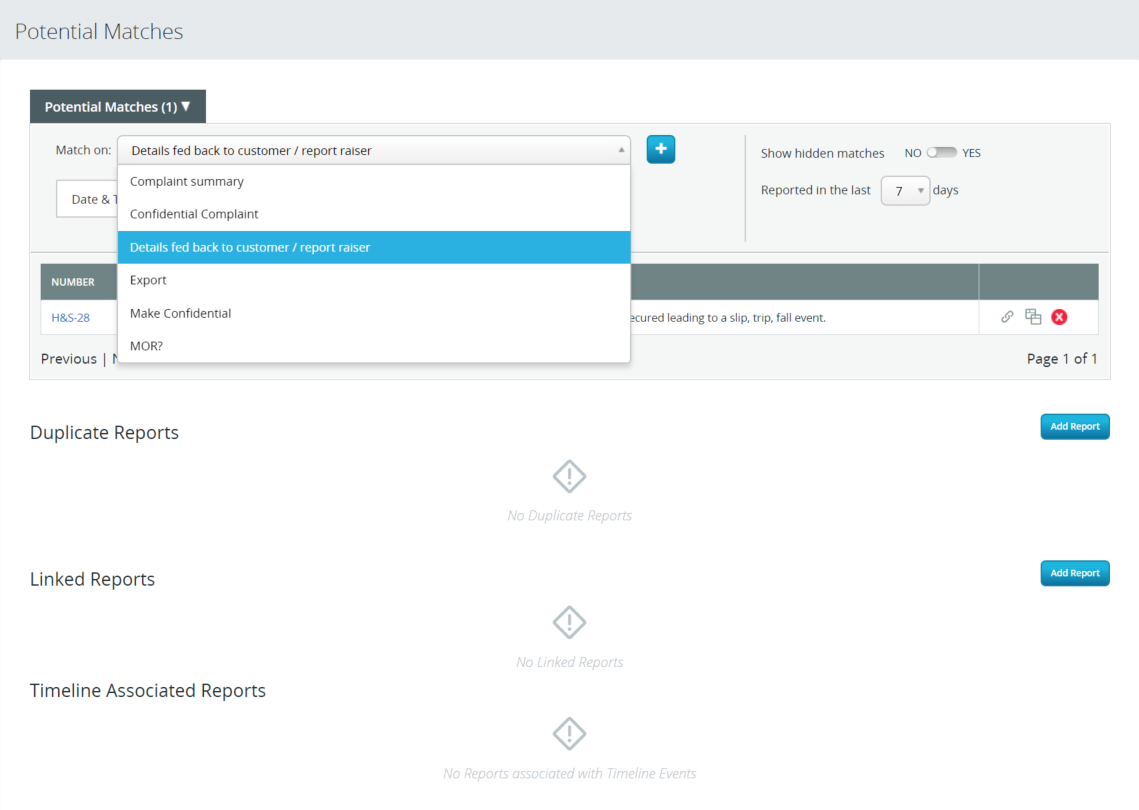 To remove criteria, click the remove icon.
Update the day counter to show reports that have been submitted within the last x days. This can be used to widen or reduce the timeline of events you are looking at.
When you find a match you can then choose to mark it as a duplicate or as a linked report.
---
4. Manually Linking a Report
In addition to auto-matching you can also search for link a specific record. In this kind of scenario you may have a totally different event
How to do it:
Go to the Evaluation tab on a report record.
Navigate to the Duplicate Reports section.
Click [Add Report].
Browse for the record number and click add to add this record as a duplicate.
Navigate to the Linked Reports section.
Click [Add Report].
Browse for the record number and click add to add this record as a linked record.
Example: If an incident takes place this could lead to additional incidents taking place. In these cases the incidents will take place on different dates with different details but linking them together allows you to monitor their association as they may share remedial action.
---
Further Reading
How to Use Timeline to Investigate an Event
How to Risk Assess a Report