Who is this article for?

Users who are accessing Coruson on a browser

No specific permissions are required.
Occasionally reports will need to be reopened when additional details have been found or if a mistake has been made. This guide will walk through how to reopen a Closed report and what sections are allowed to be edited as a result of this.
---
How to Reopen a Closed Report
Users are able to reopen a closed report in two different ways on a tenant. This action can be performed by navigating to / Reporting to see the Reports Register.
Find a closed report that needs to be reopened and find the icon to the very right on the Report. This will display a drop-down with the option 'Reopen'. Alternatively, users can navigate inside the Report and click the icon to the top right where the same 'Reopen' option can be found.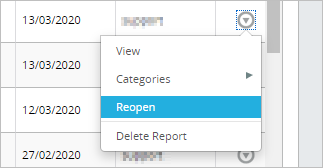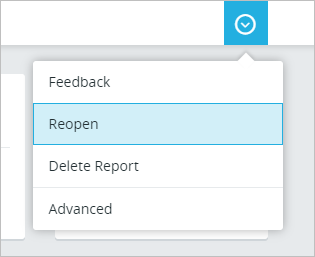 Upon clicking this option the user will be prompted to enter a Reason for reopening the Report. This is not a mandatory field and can be left blank if required, however, it is good practice to state a reason for reopening a Report.
---
Workflow Restrictions When Reopening a Closed Report
Once a Report has been reopened, any Workflow tasks which were completed are now unable to be reopened. This is to maintain the integrity of the data the report was initially submitted with.
Guidance and Response fields of the stage can still be edited at this point, however, tasks cannot have any adjustments made to them.
Tip: If changes to a Workflow task or stage need to be made then a user will need to 'Remove' the original and create a new workflow within the reopened report. This can be completed by clicking the icon within the Workflow tab and working through the Workflow again.

If there were any 'Withdrawn' Stages within the original workflow then reopening the Closed report will hide these stages from view. They will appear once more when the report is Closed again.