This article will explain how interested parties work & how you can add them to a form.
How Interested Parties Work
Interested parties allow you to add a user or group of users in the system who will be notified when the workflow of a report has been started. Archived users cannot be added as an interested party on a form and any Interested Party listed on the routing of a form will need a "Read" command in order to have access to any raised report they are a party on.
How to Configure Interested Parties
Interested Parties are found in the "configuration" tab of a form, under "routing". Please note that the form does not need to be in draft for interested parties to be changed.

They added via either the default or additional workflows.
Default workflows are the standard workflow that will be applied to the report and as a consequence, this will contain the default interested parties you wish on this form
Additional routes are for forms where you may need other people or teams to be able to work/be notified of a report. For example, if you have a report with a field that designates if a plane needs maintenance then you may wish to add an additional route that has a maintenance team as an interested party so they are made aware of this. These routes can be added via the "add route" button
To add an interested party into a route, you must select the downwards arrow in the rightmost of the route and click "edit"

From there, at the bottom of the pop-out, you will see where you can add interested parties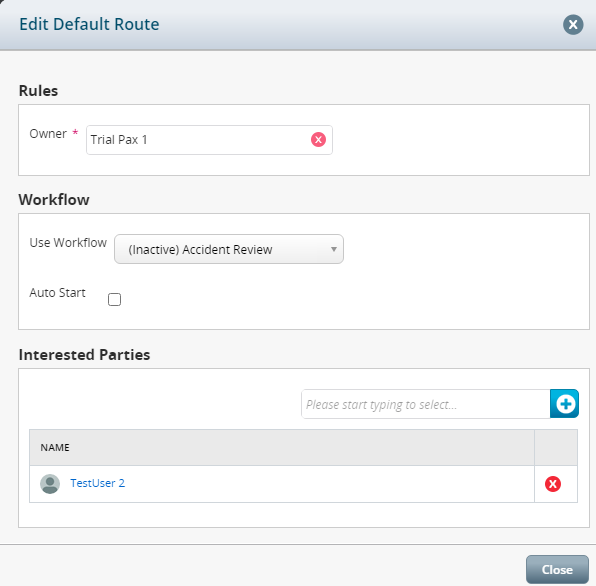 To add a party simply type the name of the user or group into the search bar and then click the blue + button.
To remove an interested party, simply click the red X on next to their name.