Who is this article for?

Users who are accessing Coruson on a browser

Administration permissions are required
This article will walk through how to configure Email Administration within the Administration module. Email Administration allows administrators to enable or disable individual types of emails as well as assign dynamic roles defining which users receive these emails. This feature also allows the customisation of the content of the email that will be sent to users.
---
Accessing and Using Email Administration Feature
Configuration of the Email Administration feature is restricted to Admin users only. To access this feature, navigate to Administration / Email Administration.
On the main page of Email Administration, the user will be presented with a list of emails sent out by the system which can be customised. The list can also be filtered by Module, Status or by a search.

---
Toggling Emails On/Off
Users are able to change whether the email is enabled/disabled by adjusting the Status toggle next to each entry on the list. Changing a toggle is an immediate change.
Batch enabling/disabling of emails is possible by clicking the button at the top right of the screen. There will be an option to Enable All emails or Disable All emails.

---
Editing the Email Description
Email Descriptions are useful for adding context and relevance to each email type. It can be used to summarise the content contained within the email or the situation in which the email will be sent to a user. Its content is up to the user to determine.

To edit an Email Description, click the button next to the status toggle of the email you wish to edit. Choose the option 'Edit Email Description'. The user will then be presented with a field to edit the description. Click Save when complete.

---
Editing the Contents of the Email
To edit the contents of specific emails, click the button next to the status toggle of the email you wish to edit. Chose the option 'Edit Email'. The user will then be presented with a page which has two tabs.
Content
The Content tab allows users to define the text which will appear in the body of the email. Additional content can be added to the email body which can be used to add messages and instructions specific to an organisation or workflow. All default content will remain on the email.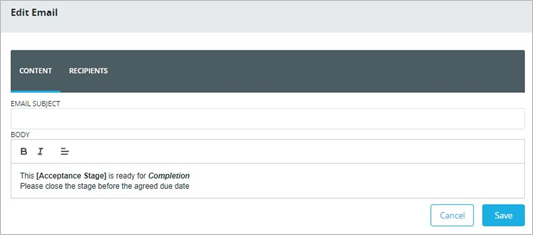 Recipients
The Recipients tab allows users to define which Dynamic user groups can be optionally altered to exclude or include an additional recipient. This can be done by adjusting the toggles next to each Dynamic Recipient on the list.